Fraudulent device Forward Gauss VR 5000 exposed as dowsing in Tanzania
Written by:
Mr. Jean Louis
Handling exportation of mining equipment
August 30th 2018
The fraudulent dowsing device Forward Gauss VR 5000 have been exposed as dowsing in Tanzania.
The fraudulent team of "geologists" claimed to be able to find hidden treasure such as burial reserves and German antiques that include and are not limited to German Duss or Deutz stove, ironbox, lantern, radio, padlocks, axe, hammer, wallclock, gramophone, sword, beacon/bayonnetes, boots, belt, wristwatch, bottle, spoon, German militaria antiques which contain natural red mercury, more to these are high grade uranium, gemstones, diamond, gold and treasure boxes full of pure silver wares and a lot more.
Answer to the inquiry from a website visitor
Thank you for telling me the method that was used to obtain the facts that you are mentioning.
On Wed, Aug 29, 2018 at 02:13:14PM +0300, a website visitor wrote:
Hello Louis, Mzuri Sana,

Most Welcome,

It is from a fact-based analysis, we have in the past had a team of geologist scan the sites I have mentioned before that is the treasure burial reserves and German Antiques that include and are not limited to German Duss or Deutz stove, DOA ironbox, lantern, radio, padlock 999, axe, hammer, fufumack, wallclock, gramophone,sword, beacon/bayonnetes, boots, belt, wristwatch, bottle, spoon, German DOA Rupies and so many other German Militaria Antiques which contain Natural Red Mercury, More to these are High grade Uranium, Gemstones, that is Diamond, gold and treasure boxes full of pure Silver wares and a lot more. Scanning was conducted by a high definition scanning - machine The Forward Gauss VR 5000- used on the site, the reports produced are attached below; together with the GPS coordinates as to the exact location.All these buried tens of feet beneath the earth surface and laced with explosive devices as well as lethal chemicals hence posing a danger to excavate it by ourselves even though the Germans settlers then constructed an access tunnel while exiting from where they preserved these treasures. The Site am talking about is in Zanzibar Island and we can only dispose it with the surety of proper settlement in terms of a transparent transaction.It is by consensus we've agreed to dispose it to a high end energy consumer Nation. Thank You for your kind consideration Jean. I look forward to joining your team to realize more in terms of future expeditions.
Hereby I wish to inform you that a short check on the device branded as Forward Gauss VR 5000 clearly indicates that the devices falls into the group of false and fraudulent devices known as "long range locators".
Reference: https://en.wikipedia.org/wiki/Long-range_locator
The term "forward gauss" is not scientific, rather fraudulent: http://www.longrangelocators.com/forums/showthread.php?t=13089
The machine is not a detector, it is non-scientific and fraudulent.
It is apparently working but does not have any real electric circuits capable of detecting anything.
The origin of the fraudulent long-range locator device Forward Gauss VR 5000 is China.
All of the long range locators are fraudulent.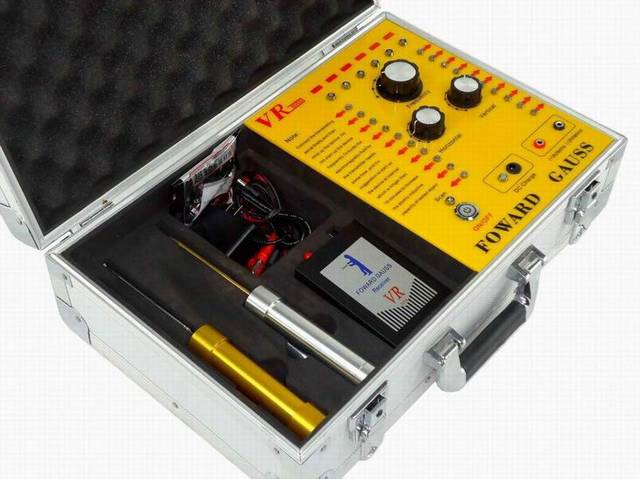 Further, simple logic can tell that any device with price range from under US $1,000 to few thousand dollars does not exist to locate items such as those you described above and on long range.
The machine is based on dowsing, which means that two rods are held in hands which is one branch of a witchcraft, reference here: https://en.wikipedia.org/wiki/Dowsing
Thus we have no interest in pursuing any business development based on a report that used a fraudulent long-range locator such as it is the fraudulent dowsing device manufactured in China and named Forward Gauss VR 5000 or any other similar fraudulent device.
You are advised to report to the police on the team of geologist that have scammed you, and that you request your money back for those false report.
In case that you yourself keep asking people for business developments based on this report, you are making yourself criminaly liable as now you have got the facts that such a report cannot be taken seriously. You would then be acting with intention to defraud other people, and I strongly advised against continuing.
Jean Louis
Call mentor's assistant Mr. Ezekiel Boniface, the alternative director of START YOUR OWN GOLD MINE IN Tanzania, on +255627462910
If you wish to
call mentor Mr. Jean Louis
for anything relating to
Start Your Own Gold Mine
simply call the number or on mobile devices click on this phone number
+385958185403
to get immediately in touch, regardless of the time zone.
Current location of Mentor to Start Your Own Gold Mine
I am Mr. Jean Louis, mentor for
Start Your Own Gold Mine
program and I am currently located in Novska, Croatia, for purposes of construction of gold mining equipment Europe and its exportation to Tanzania and Uganda. I am connecting to suppliers of mining equipment, and also promoting our
Tanzanite gemstone inventory
. You will need either to contact me by email or contact my assistant Ezekiel as described.
Contact us to Start Your Own Gold Mine. There is a simple rule at Start Your Own Gold Mine: if we can help you, we do, whenever and wherever necessary, and it's the way we've been doing business since 2002, and the only way we know