The construction of impact mills for rock milling
On this picture one can see some details of the construction of impact mills in our workshop in Croatia, Europe. Each such impact mill has capacity of minimum 500 kg per hour, and may mill the rocks down to the powder as small as 50 mesh and smaller.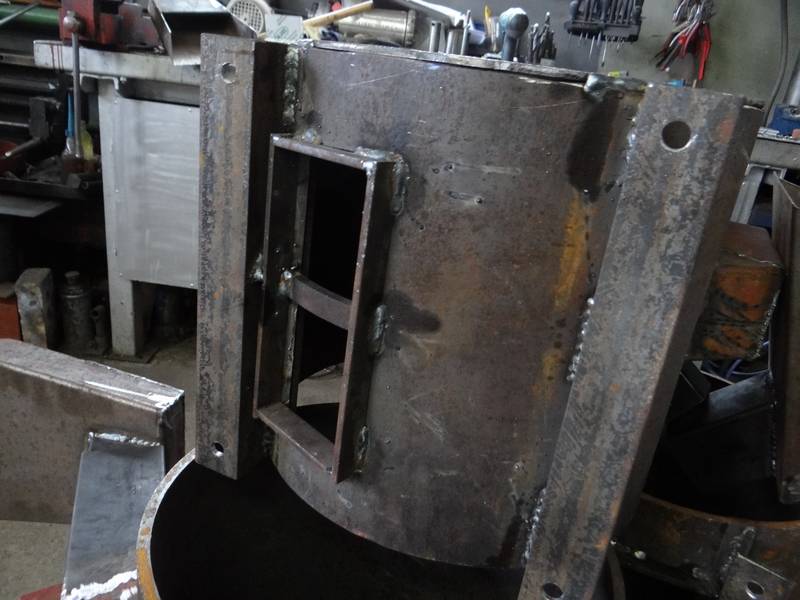 Related pages
SYOGM Rock Impact MillSYOGM Rock Impact Mill refers to low-cost, highly efficient, crushing and grinding impact mill with capacity of 500 kg and even up to 900 kg per hour. Capacity depends of the operator's skills and speed of work. This type of rock impact mill can easily replace rudimentary and very expensive ball mills such as those used in East Africa, in Tanzania, Uganda or Kenya or neighboring countries. While local village miners need to dry their rocks, this rock impact mill will work with water and without drying. It may process dry rocks as well. The machine may be transported by 2 people from a car to operating site. Or it may be transported by one person and wheelbarrow. Thus it is very mobile. Recovery screen is 1 mm and may be adjusted. We know from practical testing and scientific journal that screen of 1.5 mm is good enough to achieve almost optimum recovery. Thus our screen of 1 mm is more than enough to provide optimum recovery for small scale miners in East Africa and in other countries. This is pass-through grinding machine. It means that it may be used for very quick gold discoery and field sampling.
Contact us to Start Your Own Gold Mine. There is a simple rule at Start Your Own Gold Mine: if we can help you, we do, whenever and wherever necessary, and it's the way we've been doing business since 2002, and the only way we know
You may talk by

Telegram or use the link https://t.me/rcdrun. Or call Mr. Louis at +256706271008 in Uganda or Communication and Reporting Officer I/C +255626100000 in Tanzania.